Cutting-edge training positions Tint World® franchise owners for success
Would you like to become the next successful Franchise owner of a Tint World? You do not need a business degree to own a Tint World® franchise location. All we ask is for you to have a passion for working hard, growing a successful business and providing the best customer service in the industry.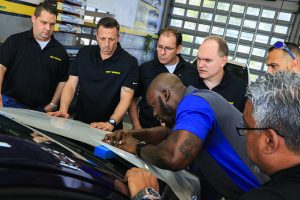 That's why Tint World® is committed to providing our new franchise owners with superior training and support from day one, and that commitment continues for the life of your franchise. It's what we call 360° Franchisee Support, and it extends to every aspect of your new business. Our in-house experts specialize in real estate, construction, purchasing, distribution, marketing and operations to help our owners every step of the way.
Proven Training Program
The first step in every Tint World® owner's journey is to attend our three-week training program at University inside our home office in Boca Raton, Florida. Our state-of-the-art, interactive training facility is designed to simulate a real Tint World® store, with working displays and a functional auto shop. There, new owners learn every facet of the industry, from management and hiring to sales and installation, giving you the best foundation to grow your business.
We follow up the three-week intensive training with five days of training with a Tint World® expert on-site at your new store to make sure you're starting strong.
Ongoing Support
Even after your training is done, you won't have to go it alone. Tint World®'s business consultants and experts are always available to offer advice and guidance to our store owners. On top of that, we know that the industry is always changing. With ongoing training and conventions, we provide the education to keep you and your business at the forefront of the industry with top-notch product knowledge.
Find Out More
Tint World®'s commitment to training and support represents an investment into our franchise owners, and our dedicated passion to help good people grow great businesses. If you're looking for a business opportunity that will provide education and support for years to come, we'd love to hear from you. Download our franchise kit today!