Many retailers spend a lot of money trying to capture new shoppers during the holidays, but there's another source of revenue that's easily overlooked in the rush: existing customers.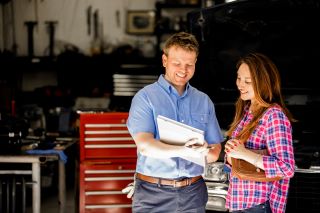 Did you know that repeat customers can spend more than three times as much as a one-off customer may spend over the course of their business relationship with you? The amount of money returning customers spend on your products can increase over time, making customer retention an important part of your sales conversion strategy. But how can you turn one brief customer experience into a lifetime of brand loyalty? Tint World® has a few tips for turning one-time customers into champions for your store.
Reaching Out
Your Tint World® service experience shouldn't end when a customer leaves your store. Following up with informative and well-designed email receipts, a series of welcoming emails and even notifications for shipping orders can all assist in keeping your store in your buyer's mind.
This strategy should also include retargeting campaigns. While holiday shoppers may be buying for someone else, giving them a discount on a future purchase may convince them to spend some money on themselves as well.
Offer Support
The holiday season should be a high-water mark for your franchise location's customer service. Ensuring reliable, friendly service during one of the most stressful retail seasons of the year can leave a lasting impact. Sometimes, that means taking returns and complaints graciously as well — while it's never fun to lose the money someone's already given you, returns are a good opportunity to convince customers to spend that money, and more, elsewhere in your store. While the products a customer has already purchased may not be a good fit, it doesn't mean you can't direct them to something that may better suit their needs.
These strategies might cost a little more to implement, but if they're included in your customer acquisition cost analysis, the return on investment should quickly become clear. If you're driven by the desire to build long lasting relationships with your customers, we want to talk to you about becoming a Tint World® franchise owner. Download our franchise kit today to learn more.