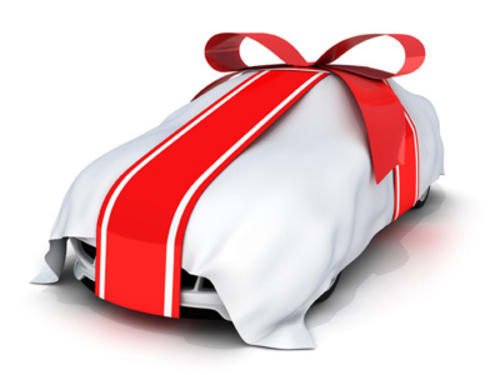 The Holiday Season is upon us, which means the gathering of families, gorging of food, and the mass exchanging of consumer goods as gifts. That last part can be a tricky one since it isn't always easy or affordable to come up with the right present for each of your loved ones, or at least ones that won't end up being a trip to the returns department.

We know how hard it can be to find the right thing, and we'd like to help. As you're racking your brain trying to come up with ideas that ride the line between fun and function, we propose you consider gifts your loved ones can use in their vehicles. According to recent reports, the average American spends over 500 hours a year in the car. That's over two weeks in the same little space, so why not give a gift that makes that time more enjoyable?

5 Automotive Gift Ideas from Tint World®:
Few things make time in the car more enjoyable than putting on your favorite tunes. Tint World® provides plenty of ways to enhance your mobile audio experience whether it's MP3-streaming audio receivers, or replacing those factory sleigh bells with high performance speakers and subs.

Window tinting makes anyone's ride more comfortable since it reduces glare, prevents overheating, and prevents shattering, not to mention the cool custom look. Even if they aren't looking for style, recipients can enjoy a safer and more comfortable commute with a flawless tint installation from Tint World®.

Despite the seasonal Lexus commercials, we can't all afford to surprise loved ones with brand new luxury cars this Christmas, but with professional auto detailing from Tint World®, you can at least make their current vehicle look like it just came off the lot. Our thorough exterior and interior detailing processes make vehicles look, and even smell, like new again.

To grandmother's house we go – but do we take this exit or the next? GPS systems make great gifts for the navigationally challenged members of your family. We install the latest in-dash navigation systems so they can make it straight to the holiday celebration without taking a detour through the North Pole.

If they're into electronics, Tint World® has the perfect gifts to bring technological convenience to their ride. From hands-free phone systems to rear view backup cameras, we install all the latest gadgets to make sure their drive is safer, easier, and more fun.

Tint World® has plenty of gifts for your friends, family members, and their vehicles. You don't need to know anything about cars either, you just need to stop by your local Tint World® and we can help you pick out the perfect gift for all the drivers in your life. Be sure to check out our Pre Holiday Sale for great prices on great Holiday gifts.