John Anhalt and wife Carole of Spring, Texas, just opened their second Tint World® location. A car lover and motor sports fan, John has found a team he can count on with Tint World®. He took the time to answer a few questions for us as this month's franchisee spotlight.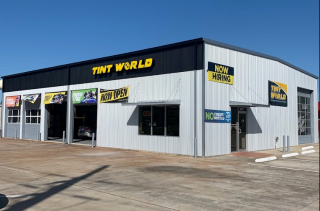 Question: How did you become a Tint World® location owner?
Answer: I was always a big fan of auto sports in general, and I though Tint World® was a great business opportunity to combine my passion for auto sports with the business-making proposition.
Q: What was your work experience before joining Tint World®?
A: I worked in oil fields, just followed the money. But that also fueled my passion for cars.
Q: What went into your decision-making process to become a Tint World® location owner?
A: I knew I wanted to be an independent business owner, but I knew I lacked the retail expertise and the marketing expertise that the franchise brought to us.
Q: Were there any people at Tint World® that particularly inspired you to join the franchise?
A: Just the whole team, not one person in particular but the team effort. They're very enthusiastic.
Q: Do you have a particular specialty or favorite Tint World® service?
A: Paint protection film. I just love taking great cars and making them better..
Q: What kind of car do you own currently?
A: My wife has a Corvette Grand Sport, and I have a Corvette Z06.
Q: What is your favorite car that you don't own?
A: The Ford GT. We sponsored a Ford GT at Le Mans. We've also done work on 14 Ford GTs so far with paint protection film, and we're one of the leading shops in the country for protection of those cars.
Q: What challenges have you faced as a Tint World® location owner?
A: My biggest challenge has been hiring, but that's to be expected. I try to be a good team leader to all the employees that work with me, and I try to make them feel like we're a family, like we're working towards common goals.
Q: What advice would you give a new Tint World® location owner?
A: Work hard to qualify your location. Make sure it's a good location at a good spot. Just like they say in real estate — "Location, location, location." That's wise for a Tint World® franchise, too.
Q: What made you decide to open a second location?
A: I wanted to expand beyond one store. I wanted the opportunities of having different stores, being able to scale up the operations and offer services that we couldn't offer alone successfully.
Q: Why did you choose to sponsor the Le Mans Ford GT? What success have you seen from the sponsorship?
A: It's important to sponsor different advertising. The number of eyeballs that saw the Tint World® sponsorship on the race car circuit is a super success for our advertising campaign. Tint World® is always going to be on a racecar now in the virtual reality world, too, with the Forza racing video games.
There's also a Le Mans movie coming out soon with Matt Damon. We got to go to Le Mans, France, and sing the National Anthem in the winner's circle. And my wife loved it because she got to hug Patrick Dempsey!
Q: Do you have plans for growth in the future?
A: I've got to make store No. 2 pay for itself first, but yes, store No. 3 is on the horizon. I'm actually hoping it's sooner rather than later.